OK, time for another Cuti-cuti Malaysia calendar for 2022… and yes I'm shamelessly reusing text wholesale from last year's post 🙂
You can download the PDF customised for Penang here. If you would just like a calendar without the Malaysian holidays and/or Chinese lunisolar calendars, see this Github repo or this Overleaf template.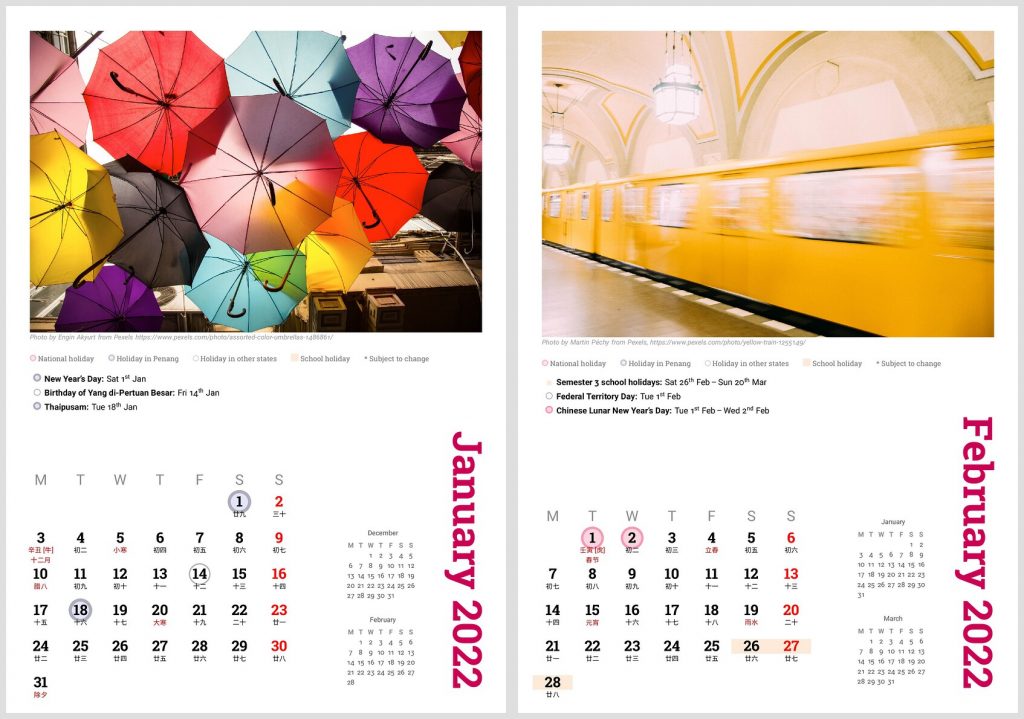 Federal public holidays are highlighted in solid shaded pink circles, as in 1–2 February. Public holidays that are applicable for your home state (Penang in the above example) would be highlighted in solid shaded purple circles, as in 1 January. Public holidays in other states (relative to your home state) are also highlighted, but only in a hollow purple circle. See e.g. 14 January (Birthday of Yang di-Pertuan Besar) which is a public holiday in Negeri Sembilan, but not in Penang. School holidays are highlighted in light orange.
If you'd like to generate your own calendar for your own home state, or to change the illustrations/fonts/colours/etc, you can download the source code and compile with XeLaTeX. If you have an Overleaf account, you can also visit my read-only project and clone it to your own Dashboard. See this post for instructions on how to customise your calendar.
Data sources
The calendar data used in this sample were obtained from the following sources, and I cannot guarantee their accuracy and correctness.
Malaysian public holiday data was sourced from the Google Calendar here using the Google Calendars API, then converted to a tab-separated values file.
Malaysian school holiday data was sourced from the Malaysian Ministry of Education's webpage.
Chinese lunar calendar data was sourced from here, converted to a CSV file and Simplified Chinese and some minor editing for typesetting purposes (inserting \\ for line breaks.
Photos in the sample calendar are sourced from Pexels and provided under the Pexels License.
Happy New Year 2022!